Cohen Seglias Partners Ed DeLisle and Michael Payne Honored In JD Supra Readers' Choice Awards
March 14, 2016
/
Announcements
We a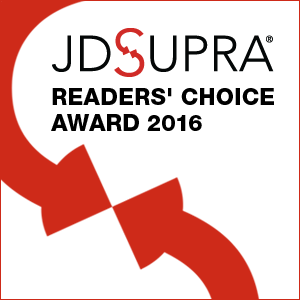 re proud to announce that Partners Ed DeLisle and Michael Payne have been honored in JD Supra's Readers' Choice Awards. Edward DeLisle was named a 2016 Top  Author because of the high level of visibility of his posts as well as his engaging articles, all of which are available on the Firm's Federal Contracting Blog. Michael Payne's article, "Difficulty in Obtaining the Approval of an Individual Surety," was named as one of the most popular insurance articles in 2015.
In its first year, the JD Supra annual Readers' Choice Awards recognize the 200 top authors from among more than 34,000 who expressed their thought leadership through publications on JD Supra in 2015. The top authors from 26 different categories are recognized for their excellent reach with readers in specific industries (of which 16 are represented in these awards, including construction, financial services, aviation, defense, energy, and others) and their tremendous visibility among readers interested in key topics of the day (the 10 topics represented include cybersecurity, compliance, patents, product liability, class actions, and others).
The full list of the JD Supra Readers' Choice Awards is available here.